The National Electrical and Communications Association (NECA) has launched the 'Women in Electrical Trades Roadmap', a national initiative supported by the Australian Federal Government aimed at increasing recruitment and retention of women in the electrical trades. This initiative was developed in consultation with employers, apprentices, Registered Training Organisations (RTOs) and Government Training Organisation (GTOs).
"Increasing the number of women in the trades is a complex issue, but not resolvable," said Suresh Manickam, CEO of NECA.
"Unfortunately, parents and young women do not have a good understanding of the electrical trades. This leads to a poor perception of the electrical trades among parents – this is something that we all need to change. We need to get into schools much earlier. We need to inform young women and their parents that an electrical trade is just as rewarding as going to university and with no HECS debt. What was once considered a dirty trade is now a clean trade and well-paid."
"This national map will play a critical role in addressing the shortage of women in trade. However, this Roadmap in itself will not solve the lack of women in trade in Australia, we seek partnerships with governments so we can tap into 50% of the population. After all, it is governments that have the access to courses, education and schools. NECA can then provide the subject matter expertise and industry pathways," said Manickam.
Women are taking over the levers of power – at least in one company, quite literally – with 21 of the 28 new electrical apprentices and trainees at Ausgrid being female.
It is the first time the number of females has overtaken males in the apprenticeship intake. Among them is Annika Van Lierop, 25, from Kariong, who left a science job to work for the electricity distribution company
"I looked at the career prospects in the electrical field and read in the next five years they expect five percent job growth and obviously everyone needs electricity. So that's why I thought I want a good career opportunity."
NSW government figures show the gap between women's and men's apprenticeship and traineeship completions has nar-rowed significantly in 20 years.
Tahlia Keen, 18, from Mortdale, left a customer service role at Sydney Airport to become an electrical apprentice with Ausgrid.
"What drew me to [the industry] were the practical and-mathematical aspects, I love problem solving and the future is where I think electricity is at especially with renewable energy," she said.
Ausgrid Executive General Manager of People and Transformation Hannah McCaughey said the quality of the company's apprentices and trainees was "outstanding" this year.
"As a woman in a senior leadership role I'm delighted to see that 21 of this class of 28 are women; they will be trailblazers across our business," she said.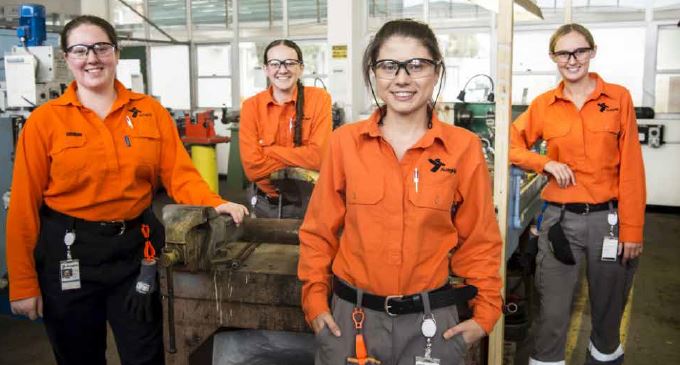 Ausgrid first-year apprentices Carlin Morton, Lauren Walsh, Tahlia Keen and Annika Van Lierop. CREDIT: STEVEN SIEWERT
Excerpts from article by Anna Patty, Sydney Morning Herald